80's
So many iconic songs…
I Love Rock 'n' Roll – Joan Jett & the Blackhearts
Eye of the Tiger – Survivor
Living on a Prayer – Bon Jovi
Every Breath You Take – The Police
With or Without You – U2
Take on Me – A-ha
Sweet Dreams are Made of These – Eurythmics
Girls Just Wanna Have Fun – Cyndi Lauper
A FEW ITEMS AT THIS YEAR'S AUCTION
Three Night Stay in Sunriver
Game Truck Party with Pizza
Dinner & Cooking Lesson for 12 at the Pantry at Delancey
FREE DRESS
Do your kids want FREE DRESS on Friday, April 28th? If so, buy auction tickets, bake or buy a dessert for the DESSERT DASH, or volunteer the week of the auction to be eligible!
DINNER AND RAFFLE TICKET SALES
Dinner tickets for the Gala Dinner & Live Auction are now on sale at  Bidding for Good . We have already sold 245 tickets, please buy your tickets now before prices go up on April 14th. (No exceptions) Tables seat 10 people and are available to purchase as a whole table. We have three ticket levels available:
Prom Committee – standard ticket, $95 per person
Prom Court – upgraded ticket, $125 per person
Prom Kings & Queens – VIP ticket, $150 per person (comes with stainless steel mug shown below)
Don't forget to sell your raffle tickets!  Each family is responsible for selling 15 tickets (at $5.00 each) for a chance to win $2500. The winner will be chosen at the Live Auction on April 28th. More tickets can be obtained at the church or school office. Please note that St. John must account for every raffle ticket –sold or unsold. Return sold and unsold tickets with payment (checks should be made payable to "St. John School") to the auction office.
VOLUNTEER AT THE ST. JOHN AUCTION!
The auction can only be successful if people attend and/or volunteer at the auction. Would you like to volunteer the night of the auction? We would LOVE your help! Please visit the Auction Volunteers at Fremont Studios sign up using the button below to find a volunteer shift. It is a great night whether  you are attending or volunteering. Thank you.

DESSERT DASH SIGN UP!
Last year's Dessert Dash raised over $8,000 for our school and it all starts with you donating a delicious dessert worthy of high bids! Please use the link below to donate a dessert. New this year, choose a pre-selected dessert from Simply Desserts or Larsens Bakery, pay for it and the Dessert Dash team will pick it up for you!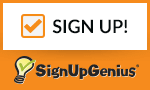 ART PROJECTS ON DISPLAY AT GREENWOOD LIBRARY
Did you know the Greenwood Library is re-opening on April 17th? That's great news because we are displaying the St. John PreK-5 Art Projects there from April 24-27. Take a look at the fantastic art work  before you bid on them the night of the auction!
IT'S THE 80's!
If you would like to accessorize your 80's prom dress or tux with flowers with a corsage or boutonnière, go to our local Ballard Blossom. Call them (website won't recognize discount code) and give them the code "StJohns" for $3 off your purchase.
If you have questions, feel free to contact Karen Bombino at karegunther@yahoo.com or at auction@st-johnschool.org.
Thank you.
St. John School Auction Sponsors